Electronic Reusable Security Seal E-LOCK Gold
Electronic security seal device for containers
REQUEST FOR QUOTATION
Description
Electronic Reusable Security Seal e-LOCK Gold
e-LOCK Gold is an advanced electronic reusable security seal with GSM/GPRS and GPS functionalities, to control position and status of assets, trucks and containers, either from fixed station in a control room or from mobile devices like smart phone or tablet.
e-LOCK Gold differentiates from other normal trackers due to the fact it can provide real time alerting and recording of any access to the goods transported or stored, which it protects: either locking, unlocking or tampering attempts are promptly communicated. In fact, thanks to the GSM/GPRS and GPS modules, it enables getting real time logistic information of identification and status of goods and vehicles,  together with traceability, location and geofencing.
e-LOCK Gold sends an SMS alert any time the lock registers an event of opening/closure, or tampering attempt (e.g. the cable is being cut), or battery is low. Alert message includes device ID, event type, GPS coordinates for the place the event took place at, and time stamp with date and time.
e-LOCK Gold has a  long operation time thanks to its long-lasting battery, rechargeable via USB.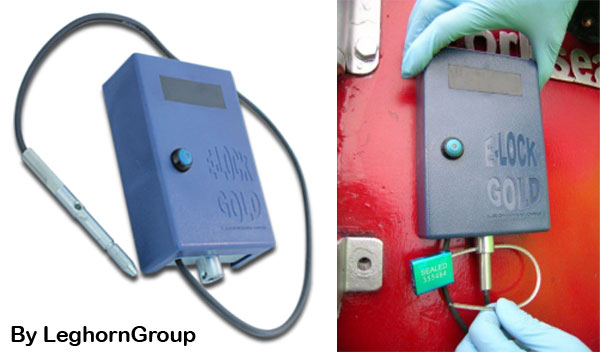 How e-LOCK GOLD works?
Thanks to its advanced technical features, e-LOCK GOLD allows you to enable features of
Monitoring, thanks to its ability to communicate in real-time with IT systems and platforms for logistics and transport, it informs about the complete data on fleets and individual vehicles.
Analysis of the data for the entire fleet relating to individual drivers, with the possibility of intervention and planning of activities.
Control, through real-time access to data on vehicles and drivers, and to the position marked on the map by using GPS tracking.
e-LOCK GOLD TECHNICAL SPECIFICATIONS
Dimension         mm 106 X 156 X 38
Material              High-resistant polycarbonate; Waterproof case
Power supply    5 VDC
Working voltage              3,3 VDC
Average current              80 mA
Current in standby mode: 15 uA
Internal battery 4,2 VDC 6600 mAh – Lithium battery, rechargeable via USB
Working hour

Two data per day: 4 years
Ten data per day: 1 years
Continuous every 10 minutes :  10 days
Stand by             > 10 years

CPU      Microcontroller System on Chip Cypress ARM Cortex-M3
GSM     GSM/GPRS module : Quectel M95
Frequency band              Quad-band: GSM850, EGSM900, DCS1800, PCS1900 MHz
Antenna             Internal antenna
GPS                       Compact GNSS Module, Quectel L86 GPS + GLONASS
Positioning accuracy      2,5 m
GPS sensitivity  167dBm@Tracking, -149dBm@Acquisition
Positioning time              Cold Start <35s; Warm Start <30s; mHot Start <1s
Satellite receiving channel: 99 acquisition channels, 33 tracking channels
Antenna             embedded patch antenna
LED indicator for GSM / GPS status
Operating temperature -15°C to 60°C
Storage temperature    -20°C to 60°C
Operating humidity        60±25%R.H
Cable material  insulated plastics, anti wringing, anti cutter
Cable length      75 cm
Closure pin        spring blocking system
Security               Possibility to block the system by using seals
Log memory     Last 700 data recorded
Data program /Data download/Firmware upgrade: via USB
 Information for customers to have access to our after-sales service and warranty conditions