FIRE EXTINGUISHER COVER (Bergamo)
Fire extinguisher cover  are manufactured in waterproof NYLON
REQUEST FOR QUOTATION
Description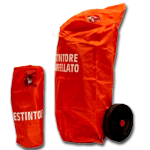 Fire extinguisher cover  are manufactured in waterproof NYLON.
Our BERGAMO BAG Fire Extinguisher Cover is perfect for keeping your fire extinguisher in excellent condition.
This extinguisher features velcro fastening, hand loops for quick removal and a handy vision panel for  ease of gauge viewing.
SIZE
They can be made to order, upon request.
MATERIAL
Nylon  840
Nylon  210
MARKING OPTIONS
– SILK-SCREEN PRINTING
– Possibility of printing by one, two or three colours
– Marking with logo on request
---
RELATED PRODUCTS