Description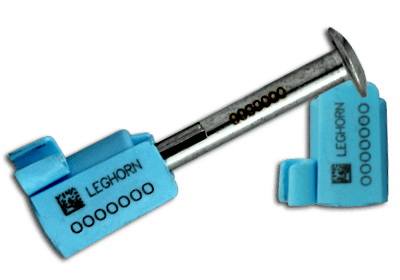 NEPTUNESEAL  is a bolt seal, compliant with high security international standard ISO 17712:2013 and specifically with the requirement of having the internal metal part exceeding 18 mm. The patent pending innovative mechanical design is characterised by two metal tabs attached to the bolt, which securely slot into the locking channel, thus preventing any breaching by high speed spinning of the female part of the seal. Any tampering attempt will give evidence of irreparable damage onto the bolt lock seal.
NEEDED CERTIFICATES TO BE IN GOOD STANDING WITH THE USE OF HIGH SECURITY SEALS COMPLIANT WITH ISO 17712: 2013
SIZE
Length: 73.5 mm (2″ 57⁄64")
Diam (head): 20 mm (0″ 25⁄32")
Diam (pin): 8 mm (0″ 5⁄16")
MATERIAL
Metal parts: Carbonitrided steel
Plastic parts: Polystyrene with pigment paint compliant with safety requirement of RoHS – Restriction of Hazardous Substances, European Directive 2002/EC.
COLOURS
White, Yellow, Orange, Purple, Light Orange, Red, Pink, Green, Light blue, Light green, Light grey, Ivory, Grey, Light Yellow, Violet, Brown.

MARKING OPTIONS
– Laser etching
– Sequential numbering up to 15 digits
– Barcode
– Data Matrix
– RFID option
– Customised printing up to 20 alphanumeric characters on one single line
– Client logo printing or embossing on request
PACKAGING
250 pcs per carton
Carton size: 39x19x16cm (15″ 23⁄64" x 7″ 31⁄64" x 6″ 19⁄64")
Carton weight: 13,3 kg (29lb)
---
RELATED PRODUCTS