SECURITY BAG FOR DOCUMENTS (Pisa)
PISA Document security bag is a very roomy security bag
REQUEST FOR QUOTATION
Description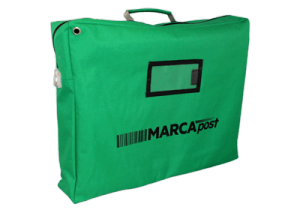 PISA Document security bag is a very roomy security bag, which is perfect for safely carrying large format confidential documents such as technical drawings.
The standard model is designed with a transparent window for inserting external documents.
It can be realized with two different systems of security closure:
With a ring made near the end of the stroke of the zip-slider so as to lock it with an adjustable plastic seal;
With closure having specific zip-slider locking system by a plastic pre-determined accommodation, which is in turn locked with a security seal called Zip-stop.
Both models of seals are numbered and personalised with customer's name.
Once the seal has been properly put in place, the only way to access the bag content is by breaching the seal, thus providing evidence of tamper.
PISA Document security bag can also be equipped with a RFID tag hidden inside. By the adoption of this unique and non-clonable identification tag, every single transport of documents is made SOLE AND UNREPEATABLE by associating tag ID and seal number.
SIZE
50 x 40 x 10 cm (19" 11⁄16" x 15" 3⁄4" x 3" 15⁄16")
40 x 30 x 10 cm (15" 3⁄4" x 11" 13⁄16" x 3" 15⁄16")
Available also in custom size on client's demand.
MATERIAL
Nylon  840
MARKING OPTIONS
– SILK-SCREEN PRINTING
– Possibility of printing by one, two or three colours
– Marking with logo on request.
---
RELATED PRODUCTS