Description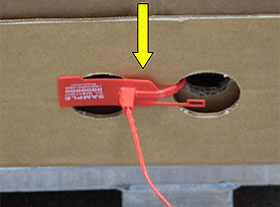 Cartons are a common part of packaging for transport.
The  cartons industry spends much of their resources optimizing  the development between weight and strength of the carton.
The PALLET BOX  has been carefully designed to reduce the risk of loss during transport.
Once the PALLET BOX  has been filled it can be sealed with a numbered security seal.
THIS GUARANTEES THE SAFETY OF THE CONTENTS.
Cardboard is one of the few materials that can be cut and folded to make different shapes and sizes.
Cartons are certainly one of the most flexible solutions of packaging and guarantee lots of advantages for those who use them.
ADVANTAGES
Very light
Shock absorption
Versatile, adapts to the requirements of the user
space saving thanks to being foldable
Completely recyclable
Low cost compared to other solutions on the market
STANDARD SIZE: 80 x 120 x 120 cm (H)