Description
Pull-tight cable ties available in different length, from 75 mm to1330 mm, realised in polyamide 66 material.
Standard product is in white, black, or coloured nylon; the variety of colours that LEGHORN offers allows the customer finding the right cable tie for the most appropriate use.
Easy to use in a wide set of applications, LEGHORN nylon cable ties are recently replacing other and different ways of fixing or tightening. Effective and long lasting closure system.
To close the cable tie simply insert the tail into the tie head and pull to tighten robustly the object or the situation to be tightened. In terms of robustness, LEGHORN nylon cable ties are subjected to severe quality controls.
LEGHORN pull-tight nylon cable ties provide secure fastening solutions for any need.
TEMPERATURE RANGES
– Operating temperature: -40°C + 85°C
– Assembly temperature: -10°C + 60°C
– Max withstanding temperature (short times):  +110°C
– Melting temperature: +256°C
– Fire resistance: compliant UL 94 class V2
– Humidity adsorption:    2,7% (in exposure to the air with 50% of RH).
COMPLIANCE WITH CE REGULATION
Compliant with UL94V2 for polyamide 66 material.
RESISTANCE TO EXTERNAL AGENTS
Normally resistant to oils, fats, soaps, detergents and petroleum products. Limited resistance to acids. NOT RESISTANT TO PHENOLO.
TECHNICAL DRAWING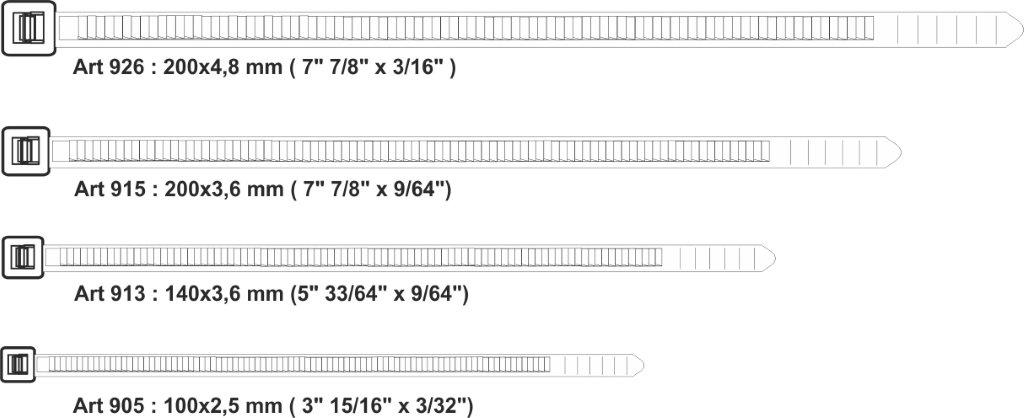 COLOURS

PACKAGING
Art. 905
Size: 100 x 2.5 (3" 15⁄16" x 3⁄32")
Quantity: 5.000
Colori: Yellow, Red, Blue, Green
Art. 913
Size: 140 x 3.6 (5" 33⁄64" x 9⁄64)
Quantity: 5.000
Colours: Yellow, Red, Blue, Green
Art. 915
Size: 200 x 3.6 (77⁄8" x 9⁄64")
Quantity: 5.000
Colours: Yellow, Red, Blue, Green
Art. 926
Size:  200 x 4.8 (7" 7⁄8" x 3⁄16")
Quantity: 5.000
Colours: Yellow, Red, Blue, Green