Metal clip seal MATCRIMP 55×10 mm
Metal clip seal. No possibility of progressive numbering
REQUEST FOR QUOTATION
Description
These metal clip seals ensure the origin and quality of the single packages which they are applied to.
Extremely easy to use.
TECHNICAL DRAWING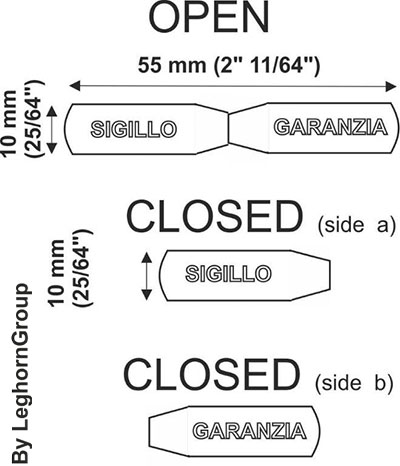 SIZE
Width: 10 mm (0″ 25/64″)
Length: 55 mm (open) (2″ 11/64″)
Length: 27 mm (closed) (1″ 1/16″)
MATERIAL
Zinc-plated steel
Brass- coated steel
COLORS & CUSTOMIZATIONS


MARKING
Seals can be marked "Security seal" (embossed print) or can be customized with logo, ECC mark or any other information upon customer's request.
PACKING
2.000 per carton (minimum order quantity)
Carton size: 28x16x22 cm (11″ 1/32″ x 6″ 19/64″ x 8″ 21/64″)
Cartone weight: 2,7 kgs (5lb)
Examples of use