Description
RFID TROLLEY, THE SIMPLEST WAY TO READ RFID SEALS ON THE FIELD. RFID TROLLEY is a self-standing and moving-on-wheels UHF RFID read/write solution for:
– Fast and efficient inventory operations.
– Outdoor logistics operations, whenever it is not possible nor convenient to set fixed reading equipment.
RFID TROLLEY has been specifically designed to work in harsh environment (industrial and outdoor) and with its robust IP65 stainless steel case and antennas it is the best work companion to carry out RFID reading operations in any operation area where fixed solutions are not possible or convenient.
RFID TROLLEY mounts adjustable high-performance antennas (up to four), which helps in finding the best placement to assure maximum reading efficiency and reliability.
RFID TROLLEY has wheels and handle that make very easy and light to move it across different areas, enabling RFID reading operations in modes and places that were not possible before, like for instance reading RFID seals on-the-go at harbour docks directly when loading-unloading containers into ships.
RFID TROLLEY comes together with a rugged tablet, Android OS, useful to set reader operation modes accordingly to different locations and to control data flow by operator. A suitable pocket is placed inside the trolley case to safely store the tablet when unused.
TECHNICAL DRAWING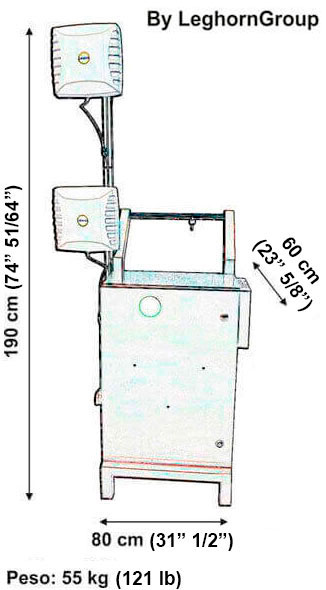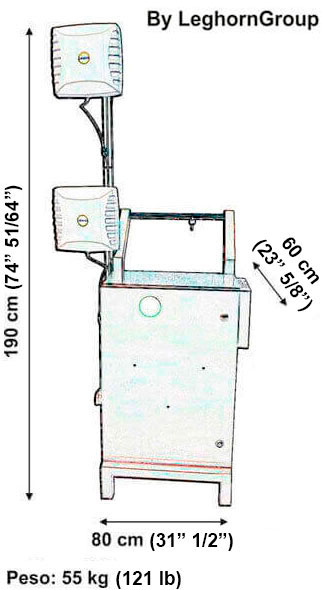 MAIN TECHNICAL FEATURES– Top performing RFID UHF reader
– Two/Four adjustable external antennas
– Lights for feedback to operators
– Battery supplied with working endurance higher than eight hours
– Communication interfaces: Ethernet, GSM/GPRS
– Tablet with pre-installed SW for trolley set up, diagnostics, and maintenance.
RFID SPECIFICATIONS
– UHF Long Range Reader with GPRS
– EPC C1 G2, ISO 18000-6C Compliant
– Multi-Regional Support
– Embedded Intelligence
– Ethernet Port
– USB 2.0 High Speed Host Port
– Internal MicroSD slot
– Integrated GPRS modem (optional)
MECHANICAL SPECIFICATIONS
Metal cabinet size: cm 55 x 75 x 25 (21 " 21/32" x 29" 17/32" x 9" 27/32")
Overall Trolley size: cm 55 x 110 x 60 (21 " 21/32" x 43" 5/16" x 23" 5/8")
Antennas bar lenght: cm 150 (59" 1/16")
Weight: kg 55 (121 lb)