Description
Canvas postal sack. Enduring and very sturdy product. It has double stitching and strong brass eyelets. MATERA postal sack can be closed in two different ways:
By using the eyelets and one plastic pull tight seal or one metal adjustable cable seal passed through the rings;
Without using the eyelets and by using only a pull tight seal.
In both cases the postal sack will result perfectly sealed and any tamper action will be hindered and made evident.
MATERA canvas postal sack can be customised, even in more than one colour.
MATERA canvas postal sack is a recommended product for bulk order of letters in postal sorting centers.
TECHNICAL DRAWING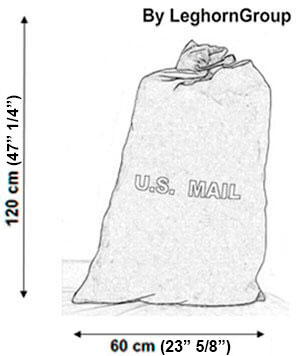 SIZE
120 x 60 cm (47" 1/4" x 23" 5/8")
MATERIAL
Canvas, Jute
MARKING OPTIONS
– SILK-SCREEN PRINTING
– Possibility of printing by one, two or three colours
– Marking with logo on request
RFID SEALING SYSTEM
Since several years now LEGHORN can offer also RFID seals to close postal sacks. Most suitable product for this purpose is RFID
TITANSEAL RFID
RFID TITANSEAL is a security sequentially numbered seal that embeds a RFID tag, available in different operational frequencies (HF/NFC/UHF).
The sack can be opened only by breaching the seal and when doing this way the tampering action results very evident.