Electronic reusable security seal e-LOCK STANDARD
Electronic reusable security seal
REQUEST FOR QUOTATION
Description
Electronic reusable security seal
The electronic reusable security seal e-LOCK STANDARD announces the unauthorized opening of the truck / container by generating a random number, which must be the same before and after the delivery of the cargo.
e-LOCK STANDARD  is the entry-level product of the reusable electronic locks family manufactured by LeghornGroup, with basic features at a very competitive price.
Prevents internal theft and fraud along the entire supply chain
As soon as the seal is closed, it automatically generates a unique number that can be transferred to the cargo documentation
Simple to use, stand-alone, battery-powered unit
e-LOCK STANDARD allows detection of entry throu the use of a randomised serial number.
Successfully on the market since 2008, e-LOCK STANDARD has the following recently improvements as for environmental resistance and usability:
IP66 waterproof case
sealing pin made of stainless steel (AISI 316) able to withstand a harsh environment
battery replacement set-up
30% reduction of the device weight (completely plastic case – from 840 gr (29,63 oz) to 590 gr (20,81 oz))
When locking the seal, it automatically generates a unique random number that can be entered in the freight documents.
If the e-LOCK STANDARD displays the same number on arrival, it is certain the cargo doors, trolleys or container have not been opened in transit.
A new unique number is generated each time the transport has to stop for additional loading or offloading.
How does e-LOCK STANDARD work?
e-LOCK STANDARD works in a very simple way:
Each time the pin is pulled out of the plug a random number is generated by the e-LOCK, which is shown on the display.
By pushing the front button, the previously generated number is recalled on the display.
Rugged housing completely protected from water, dust, salt, dirt and oil. It can withstand severe temperature ranges.
Easy to attach to the back of a truck either by screws or magnets, by using a special metal plate.
Easy to use and requires no maintenance
Long battery lifetime (5000 sealing activities). The battery can be replaced by the user, making the e–LOCK STANDARD a very cost effective solution to prevent goods losses along the supply chain, almost maintenance-free.
Technical specifications
Dimension: 106×156×38 mm
Weight: 590 gr (20,81 oz)
Fixing: 4 M6 screws
Actuator: Mechanical life 1.000.000 cycle
Operative temperature: -20°C + 50°C
Storing temperature: -25°C + 80°C
Battery: Lithium Long life non rechargeable
Waterproof: IP 66 equivalent
Sealing: PVC
Case Material: Shock-resistant Polycarbonate and Polypropylene
Vibration: Vibration resistant
Display: LED 5 Digit – Red – night readable
Cable pin: Inox AISI 316
Lock plug: Plug with spring lock
Security: May be locked with other kind of security seal
Cable TIR Cable in PVC coated steel cable
Key Features
Robust and easy to use device – No maintenance
Long-lasting battery
Bright 5 digit LED display illuminates for easy reading, even at night
A spring lock holds the plug in place for fast and easy access
Sealing pin has a 4 mm (5/32″) hole, capable of insertion of a pull-tight seal or cable seal for additional security.
 Information for customers to have access to our after-sales service and warranty conditions
Examples of use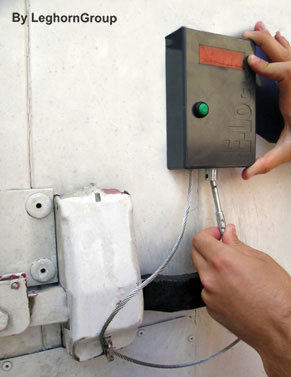 Video
General presentation
View presentation