Description
Reusable Electronic Security Seal
SPYLOCK is a reusable electronic seal specifically designed for greater security in the supply chain of transport logistics.
SPYLOCK combines security and ability to monitor the status of the goods transported by trucks, trailers and containers through the following features:
Record any access to goods: opening, closing or tampering (device ID, and time).
It has a long operating time due to power with durable battery (USB rechargeable).

The recording on the device of the position of the opening/closing/tampering events is a function that is not currently available but can be carried out on request. Terms and conditions for implementing this function to be discussed and agreed with the customer.
TECHNICAL DRAWING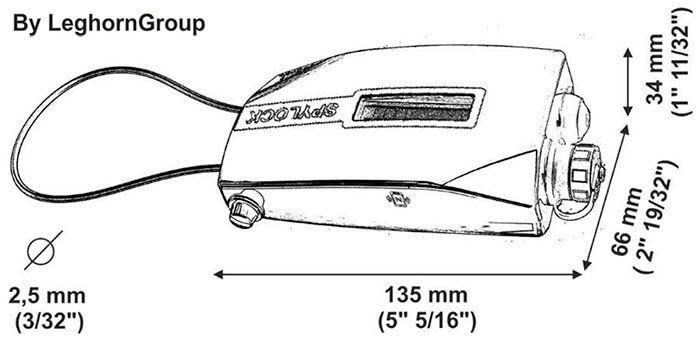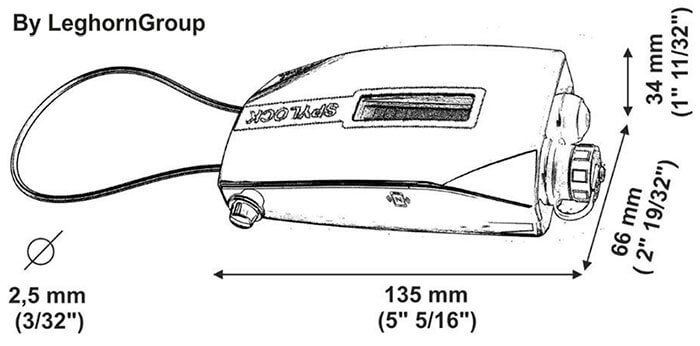 TECHNICAL FEATURES
– Dimensions: 131×67×35 mm (5" 5/32"×2" 41/64"×1" 3/8")
– Wire standard lenght: 110 mm (4" 21/64")
– Wire diameter: 2,5 mm (3/32")
– Weight: 180 g
– Wire material: Stainless steel
– Device enclosure: ABS
– Industrial protection degree: IP65
– Mechanical closure: Closing actuator coupling with spring button
– Operative Temperature: – 20°C / +55°C
– Storage Temperature: – 20°C / +55°C
– Display: Backlit White, 32 characters (2×16)
– Communication interface: USB 2.0
– Battery Rechargeable 1100 mAh 3,7V
– Memory storage: 1000 data record
– Password protection: Software
– Tamper security: Sensor to detect case opening
– Manufacturer Code: UID CODE
– Management Code: Software Code
– RFID: HF NFC Tag
PACKAGING
Packed in plastic case containing:
– SPYLOCK
– USB Cable
– Manual, documentation and SDK (digital versions)
– Application software for PC connection and data logs download
Package size: 230×160×75 mm (9" 1/16"×6" 19/64"×2" 61/64")
Package weight: 200 g (7,05 oz)
 Information for customers to have access to our after-sales service and warranty conditions
Anchoring accessories
LeghornGruop provides, upon customer request, SPYLOCK equipped with optional accessories to guarantee an adequate fixing of the device on any type of surface.
In particular, two options are available: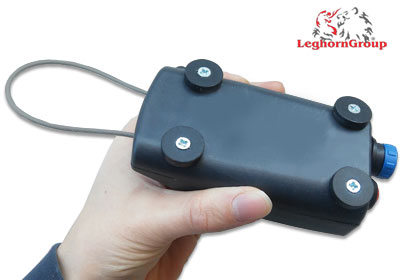 1) SPYLOCK with magnetic fixing: the back of the body of the device is equipped with four magnetic disks that allow the device to adhere tenaciously to any ferromagnetic surface, thus avoiding that it sways and suffers shocks due to the vibrations typical of the means of transport. Similarly the magnetic fixing facilitates its adhesion to metal containers, barriers and fixed gates, etc.
The technical characteristics for each magnet are the following:
Material: NdFeB (Neodymium-Iron-Boron)
External diameter: 20 mm (25/32″)
Thickness: 5 mm (13/64″)
Countersunk hole: diameter 7/3 mm (9/32″ / 1/8″)
Magnetization: Neodymium N42
Max working temperature: 80 ° C
Weight: 20 gr (0,70 oz)
Strength: 6 kg (13 lb)
The disc is covered in plastic material and is therefore rust-resistant and ideal for fixing in damp environments.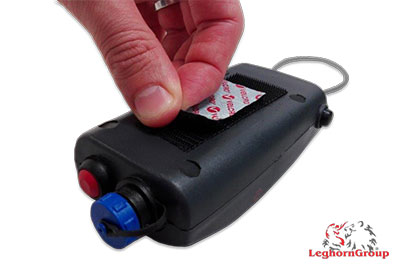 2) SPYLOCK with velcro fastening: the high-tight velcro supplied by LEGHORNGROUP is the solution for quick fastening of the SPYLOCK device on any type of surface. It is the fixing solution designed for every use and application, quick and easy to implement.
The main technical characteristics of the adhesive velcro supplied are the following:
Production technique: extrusion
Material: polyamide
Width: Nominal ± 1%
Thickness: 2.75 ± 0.15 mm
Weight: 580 ± 30 g / m²
Application features:
Mechanical resistance with LOOP closure

resistance to detachment: Minimum 1.5 N / cm
cut resistance: Minimum 12 N / cm²
tensile strength: Minimum 2.5 N / cm²
breaking load: Minimum 140 N / cm

Closure life: 50% loss of adhesion after 1000 openings
Melting temperature: 250 C
Washing resistance: Medium
Resistance to UV radiation: Medium
Resistance to acid attacks: Medium
Moisture resistance: Medium
Combustion speed (FMVSS 302 standard): Max 100 mm / minute
Video