Janus Gate
RFID System designed specifically to monitor and manage the movement of containers that pass through a gate
REQUEST FOR QUOTATION
Description
JANUS-GATE: RFID UHF GATE is an «all-in-one» RFID UHF  – ISO 18000-6 (EPC Global) system designed specifically to monitor and manage the movement of containers that pass through it. It is able to monitor in a reliable and secure way the RFID e-Seals applied to the containers that enter terminals, ports and depots, by taking an automatic accurate reading of these passive (battery free) RFID seals.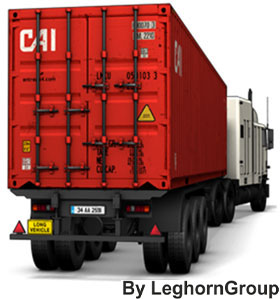 JANUS-GATE: RFID UHF GATE  is made up of a reader and two antenna that are capable of reading the RFID e-seals regardless of their position or condition, distinguishing even between two containers that pass through simultaneously in adjacent lanes.
RFID e-SEALS applied on the upper handles of the container

RFID e-SEALS applied on the lower handles of the container

RFID e-SEALS applied on the left or right hand side of the container

RFID e-SEALS applied to containers positioned  with the doors towards the lorry's cab

RFID e-SEALS applied with the doors facing the opposite end  of the lorry's cab
---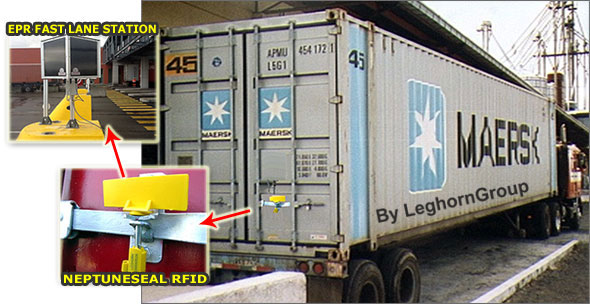 JANUS-GATE: UHF RFID  GATE
Is an RFID UHF  – ISO 18000-6 (EPC Global) able to read all types of RFID  seals (from any manufacturer).
For every lane  the JANUS-GATE: UHF RFID  GATE can read up to  2 RFID e-SEALS on the container that passes through it.
Every lane that must be checked  is managed by an  EPR FAST LANE STATION.
The average reading distances are:  6 m / 8 m (19 – 26 ft) Additional Optional Kits:
– Kit TEMP: kit designed for operating  at – 40 ° C a + 75 ° C
– Kit LED Alert: for local alerts using high intensity LED  and a loud buzzer
---
Main technical features
JANUS-GATE: UHF RFID  GATE
Advanced Detection Algorithm , for the accurate and efficient reading of the seals that pass through the gate
Lane Detection Firmware for identifying and reading of seals in adjacent lanes
Auto setting capability, for improving the readings regardless of the environmental conditions
Fast Mounting, for easy servicing set up and installation
Fault Tolerance Management System , for 24 hour continuity and service operations (optional)
JANUS-GATE: UHF RFID  GATE The system is able to support special configurations such as reading two RFID seals applied on two containers traveling on the same trailer.(in this situation the two containers should be positioned with the two doors opposite each other with a distance between them of at least 1m)
Main hardware Characteristics
"THE JANUS-GATE: RFID GATE PASSIVE SYSTEM UHF"
Operating Frequency:
865-869 MHz, ETSI EN 302-208
Operating Protocol:
ISO 18000-6C; EPC Class1 Gen2;
Antenna:
Special Embededd antenna system
RF Power:
Programmable via software up to +32.5 dBm (up to +30dBm if used with POE)
Reader power:
POE IEEE802.3 or 24 Vdc, 0,8A via an external power source
Network power:
100-240 Vac, 50/60Hz
Communication ports:
Ethernet 10/100 Base-T Ethernet (RJ45)
Sensors:
External photocells for trigger signal
Configuration address:
DHCP, Static, LLA + mDNS
Environmental conditions:
• Operating Temperature: -20°C + 50°C
• Stock Temperature: –20 °C +60 °C
Basic Dimensions:
300 x 300 x 100 mm (11″ 13/16″ x 11″ 13/16″ x 3″ 15/16″)
Weight:
3000 g (105,82 oz)
Certification:
CE (FCC can also be supplied on request)
Housing:
Metal and ABS
IP Protection:
IP55
Management software: JANUS-GATE: RFID UHF  GATE
The  Management Software allows the RFID gates to be monitored and operated easily by the control staff. The main pieces of data that the system can manage are:
serial number of theRFID e-seals
identification of the gate
identification of the lane
date and time of the reading
number and reading of each individualRFID e-seals
sequential reading where a container is sealed with two e-seals or where there are two containers on the same trailer
the state of the security seal (e.g. TAMPERED / NOT TAMPERED) valid for the containers fitted with the RFID NEPTUNE SEAL Anti tamper with special software .(optional)
generation of file log
The Management Software for JANUS-GATE: RFID UHF GATE can be installed on any  PC or SERVER that uses WINDOWS.To connect the PC with the Management Software and  the  JANUS-GATE: RFID UHF GATE  a LAN network Ethernet TCP/IP connection is required .
The JANUS-GATE: RFID UHF GATE can also be integrated with existing IT systems and structures.
JANUS-GATE: RFID UHF GATE
Supports the following Leghorn RFID e-seals :NEPTUNE SEAL RFID Standard-NEPTUNE SEAL RFID Anti-tamper-TITANSEAL RFID-FORKSEAL RFID-CABLE LOCK SEAL RFID
Designed and manufactured by Leghorn Srl
Video