Description
Reusable cable ties look and function very much like the traditional non-adjustable zip tie, with which you insert the tail into the positive locking head. The only difference is, in a releasable cable tie, there is a built in tab that you can lift or press to release the lock on the tail so that you can make adjustments when needed.
This is a very versatile type of releasable cable tie, as it is produced in several different sizes.  Furthermore, the positive locking features of these ties enable the user to make precise adjustments in the tension.
These characteristics make the releasable cable tie a great tool for organizing the widest range of cables, cords, and wires, from industrial applications to home use.
Max held kg 22
Black colour recommended for external use
TECHNICAL DRAWING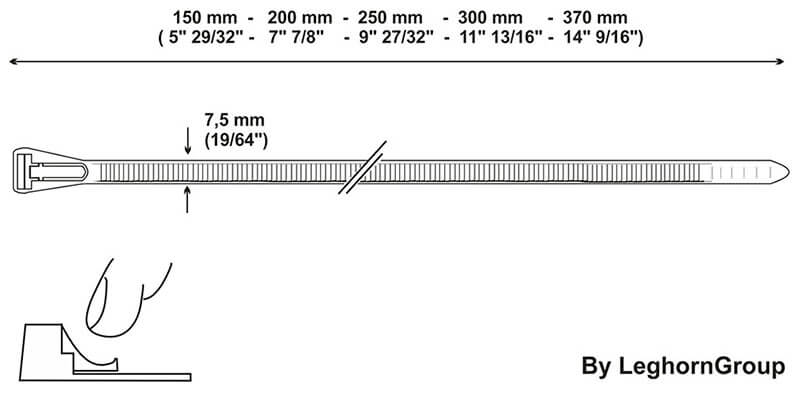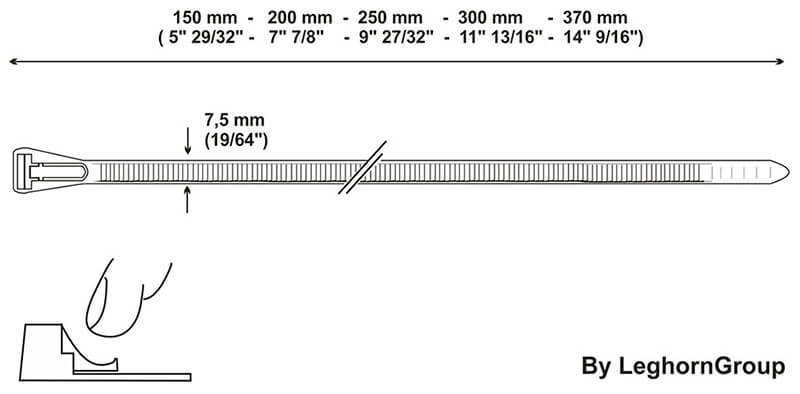 COLOURS
White, Black


TEMPERATURE OF USE
– of exercise: -40°C + 85°C
– of assembly: -10°C + 60°C
– maximum tip assimilable for short periods: +110°C
– of fusion: +256°C
– held to the flame *: true to law UL 94 class V2
– absorption humidity: 2,7% (in exposure to the air with 50% of U.R.
TRUE TO CE EUROPEAN NORMS
We use classified material UL94V2 For all the polyamide 66 cable ties.
HELD THE EXTERNAL AGENTS
It resists to bases oils, greases, soaps, detergents, petroliferous products, clorura dissolvents, alcooli. – Limited held to acids. ** – It does not resist to phenol.
SIZE
LEG962001 Reusable cable ties 150 x 7,6 (5" 29/32" x 19/64") white  1.000
LEG962002 Reusable cable ties 200 x 7,6 (7" 7/8" x 19/64") white  1.000
LEG962003 Reusable cable ties 250 x 7,6 (9" 27/32" x 19/64") white  1.000
LEG962004 Reusable cable ties 300 x 7,6 (11" 13/16" x 19/64") white  1.000
LEG962005 Reusable cable ties 370 x 7,6 (14" 9/16" x 19/64") white  1.000
LEG962101 Reusable cable ties 150 x 7,6 (5" 29/32" x 19/64") black   1.000
LEG962102 Reusable cable ties 200 x 7,6 (7" 7/8" x 19/64") black   1.000
LEG962103 Reusable cable ties 250 x 7,6 (9" 27/32" x 19/64") black   1.000
LEG962104 Reusable cable ties 300 x 7,6 (11" 13/16" x 19/64") black   1.000
LEG962105 Reusable cable ties 370 x 7,6 (14" 9/16" x 19/64") black   1.000