Description
LeghornGroup Tyvek® bands are the perfect method of identifying paying customers. Tyvek Wristbands can be used for nightclubs, crowd control, bars and hotels. They are also suitable for: restaurants, schools, day care centers, tour groups, crowd management, special concessions, catering, age ID, height restrictions, and any application where a visual mean of identification is needed.
Thanks to RFID (passive, available in HF operating frequency) persons who wear the wristband can be identified in a fast, safe and effective way, since the chip inserted into the wristband has a unique code that cannot be cloned.
Made of strong, waterproof, lightweight Tyvek®, wristbands comfortably adjust to any size and are easily applied with an adhesive strip.
The wristband can be customised to allow both an easy visual inspection and a possible operation of commercial marketing.
TECHNICAL DATA
Chip Type:
HF 13.56 MHz (FM11RF08, Mifare1K S50, Mifare1K S70, Ultralight, I-CODE series)
Mechanical:
Material
Tyvek
 
Length
250 mm (9″ 27/32″)
 
Width
19-25 mm (3/4″ – 0″ 63/64″)
 
Color
Blue, red, black, white, yellow, orange, green, pink
Electrical:
Operating frequency
13.56 MHz
 
Operating mode
Passive (battery-less transponder)
Thermal:
  Storage Temperature
0°C to +50°C
 
  Operating Temperature
0°C to +50°C
TECHNICAL DRAWING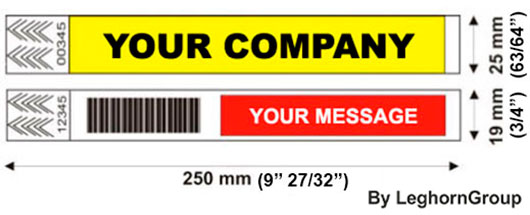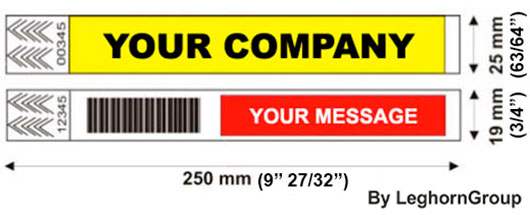 SIZE
Width: 19 – 25 mm (3/4″ – 0″ 63/64″)
Length: 250 mm (9″ 27/32″)
COLOURS & CUSTOMIZATIONS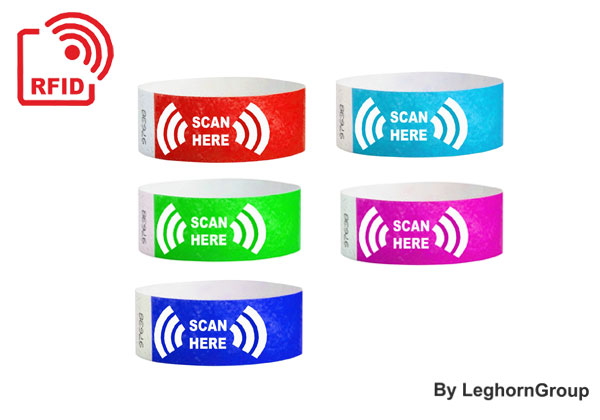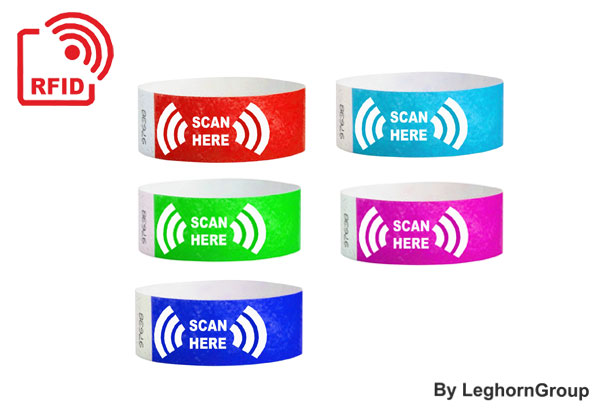 PACKAGING
1.000 per carton
Carton size: 28x21x5 cm (11″ 1/32″ x 8″ 17/64″ x 1″ 31/32″)
Carton weight: 0,8 kgs (1 lb)