Security deposit bag (Oslo)
Zipper security bag for any association, business or banking needs
REQUEST FOR QUOTATION
Description
OSLO is a large capacity security bag for secure transport of coin, currency, check or other valuables. It is the perfect bag for any Bank Institute or Security Company in charge for secure money holding/transport.
OSLO Security Deposit Bag is designed with two exterior transparent windows to hold transport documents. The windows can be realized either with external or internal access.
OSLO Security Deposit Bag can be furtherly sealed by a sequentially numbered security seal – ZIPSTOP. ZIPSTOP seal is a plastic seal that blocks the zipper once inserted into the zip-slider. Then, the only way to open this security deposit bag is by breaking the seal. Seal barcoding and RFID tag inserting available as options.
TECHNICAL DRAWING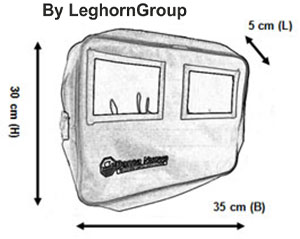 SIZE
Art: Oslo 5 Cm (1" 31/32"): 35 (B) x 5 (L) x 30 (H) (13" 25/32" x 1" 31/32" x 11" 13/16″)
Art: Oslo 10 Cm (3" 15/16"): 35 (B) x 10 (L) x 30 (H) (13" 25/32" x 3" 15/16" x 11" 13/16")
Available also in custom size on client's demand.
MATERIAL
Nylon  800
COLOURS

MARKING OPTIONS
– SILK-SCREEN PRINTING
– Possibility of printing by one, two or three colours
– Marking with logo on request