Security UHF RFID Cable seal
Metal Cable Security Seal working with passive UHF RFID, radiofrequency automatic identification. Available with identification only or also with tamper evidence built-in capability
REQUEST FOR QUOTATION
Description
CABLE SEAL RFID ANTI-TAMPER combines the mechanical security of traditional LEGHORN CABLE SEAL product together with the electronic security offered by the latest radio frequency-based automatic identification (RFID) techniques.
The plastic enclosure of the seal, in robust ABS material, embeds an electronic chiptag  with unique code that not only enables the automatic identification of any container or transport vehicle, which the seal is attached onto, but enables also immediate, easy and reliable readings of the integrity status of the seal, by giving information about any tamper evidence.
RFID ANTITAMPER SEAL is the step ahead in front of already existing RFID SEAL
CABLE SEAL RFID ANTI-TAMPER:
Is a High Security Seal;

Univocally identifies the container or the vehicle to which it is attached;

Can be easily and reliably read by fixed reading units placed at transit gates or by handheld reading units manually operated by inspectors and gives back it unique code as a basic RFID seal;

When compared to standard RFID seals, tamper evident RFID seals are able to permanently store into their memory the tamper event by activating a status bit named TAG TAMPER ALARM, thus providing immediate information about seal status at readings (tampered/not tampered);

Can store additional information but the ID code, also in password-protected mode, by using same devices that are used for the reading operation;
Radio Frequency specification
Frequency:
860 – 960 MHz – UHF EPC Global
Reference RF Standard:
ISO/IEC 18000-6C
RF Protocol:
EPC Class 1 Gen2 / ISO/IEC 18000-6C
Technology:
Passive
Integrated circuit
NXP
Mechanical specification
Material
Aluminum + ABS  or polystyrene in accordance with Restriction of Hazardous Substances (RoHS) listed in the European Directive 2002/EC.
IP Protection
IP66
Operative Temperature
– 30°C / + 80 °C
Storage Temperature
– 30°C / + 80 °C
Size Electronic Part (flag)
42x115x4 mm (1" 21/32 " x 4" 17/32 " x 5/32 ")
Wire standard lenght
337 mm (13" 17/64 ")
Wire diameter
3,5 mm (9/64")
Weight
61 g (2,15 oz)
ISO 17712:2013
yes
Package size
cm
Package weight
 6,1 kg (13 lb)
Package number seal for box
100 pcs
Electronic specification
Reading distance handheld reader
3 m (dependig on reader) (9′)
Reading distance gate reader
8 m (dependig on reader) (26′)
Quality:
100% performance tested
User Memory:
Yes
Read / write cycles:
10000
Memory size:
from 128 bit up to 448 bit of EPC Memory;up to 640 bit of User Memory
Password protection:
yes
Tamper Detection:
yes
TID (tag unique identification):
yes
S/N in memory (same of seal):
yes
Data retention:
20 years
Integration with handheld reader:
commercial PDA, OS ANDROID
Integration with gate reader
commercial industrial reader
TECHNICAL DRAWING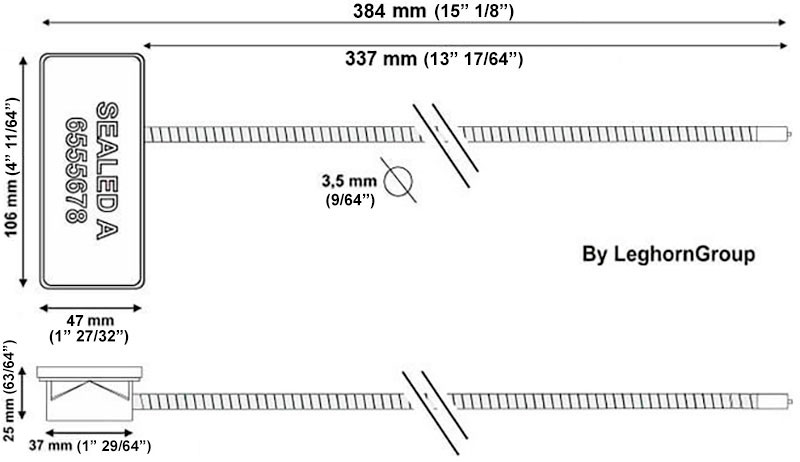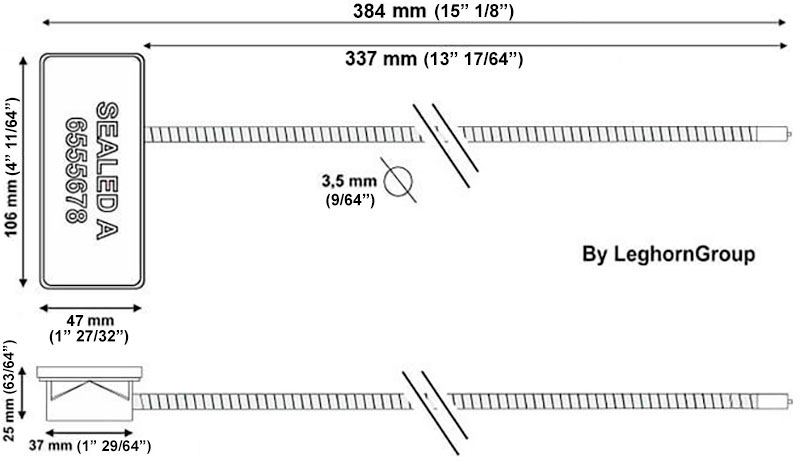 COLORS & CUSTOMIZATIONS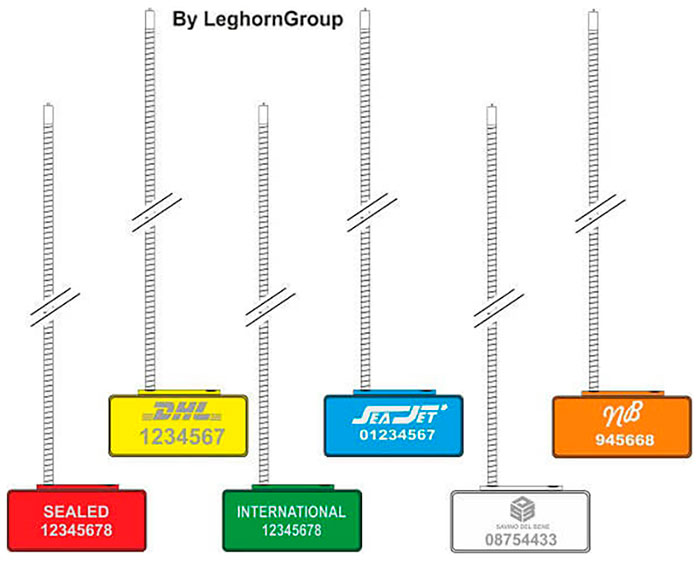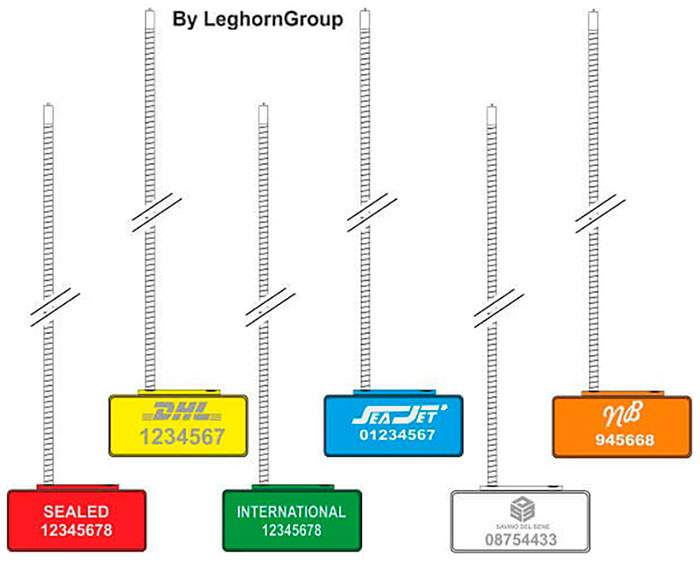 * LOGISTIC VERSION AVAILABLE ON REQUEST
How to use
A) Insert the tip of the tamper evidence RFID cable into the hole of the container handle.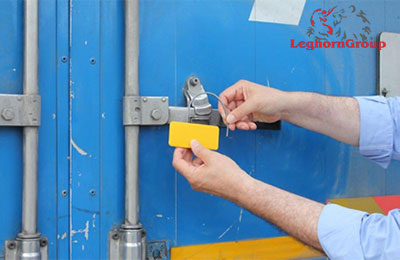 B) Insert the same tip of the tamper evidence RFID cable into the hole present in the e-seal body.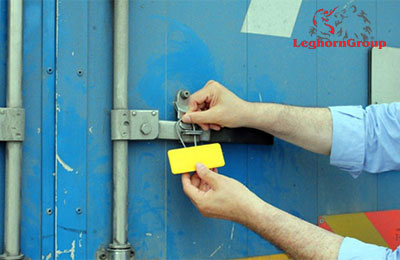 C) Pull as much as necessary. Once the tamper evidence RFID cable is inserted, the internal mechanisms of the seal will block it irreversibly.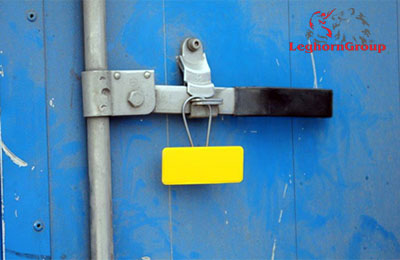 D) Check with the RFID reader that the e-seal is active and that it has been closed correctly. A GREEN visual message confirms the correct reading and the integrity of the seal.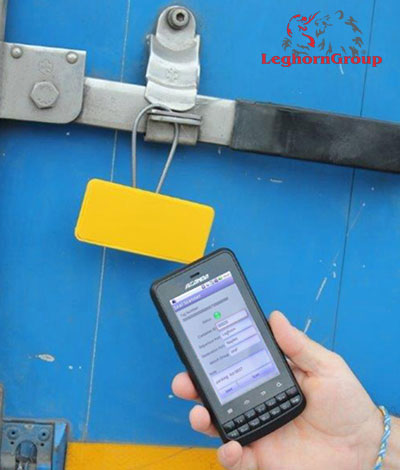 E) Once cargo has arrived at final destination and the integrity of the e-seal has been reached and checked again, the tamper evidence RFID cable seal will be removed by means of shears.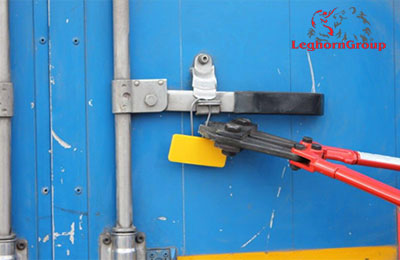 F) Check with the RFID reader that the e-seal confirms the cut. A RED visual message confirms the tampering with the e-seal.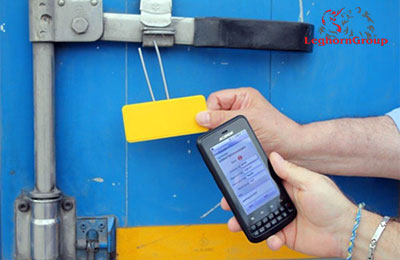 Certificates
Certificate SGS
General presentation
View presentation
You may also like…
Security UHF RFID Cable seal roll-container

Security Metal Cable Seal working with passive UHF RFID, radiofrequency automatic identification. Available with identification only or also with tamper evidence built-in capability. It is extraordinary useful to prevent roll-containers' loss and mishandling

UHF RFID Secure cable seal keyholder

Sturdy cable-style locking keyholder featuring high security thanks to the use of RFID technology. It has built-in tamper evidence functionality to show possible manipulation of keys. Ideal complement to Key Management Systems