Cable seal UHF/HF/NFC RFID MINICABLE
Adjustable metal cable-lock seal available in UHF, HF and NFC operative frequency bands. It perform automatic identification functionality
REQUEST FOR QUOTATION
Description
MINICABLE RFID is a metal adjustable cable-lock seal offering a high level of security thanks to it mechanical characteristics combined with the use of automatic radio frequency identification technology, RFID.
The presence of a unique RFID chip guarantees its complete non-clonability, reinforcing product security in the authentication of goods and their physical protection along the transport and logistics chain.
The availability of the product in two different operating frequency bands also ensures differentiated performances and therefore a wider possibility of use in the field. In particular, NFC product version makes it user friendly, with information accessible simply via smartphone or tablet.
MINICABLE RFID product is also available in a fixed-length option that allows using this security seal as special security key-holder.
TECHNICAL DRAWING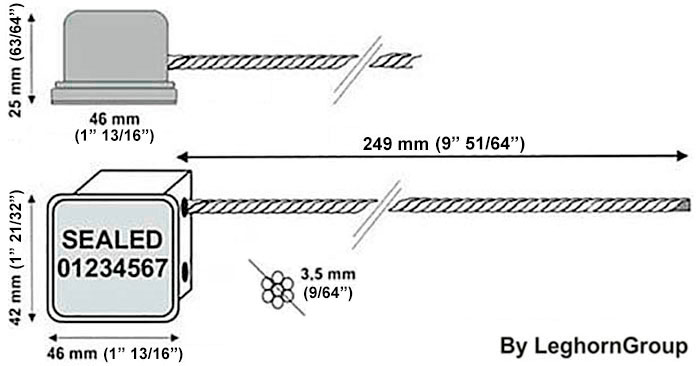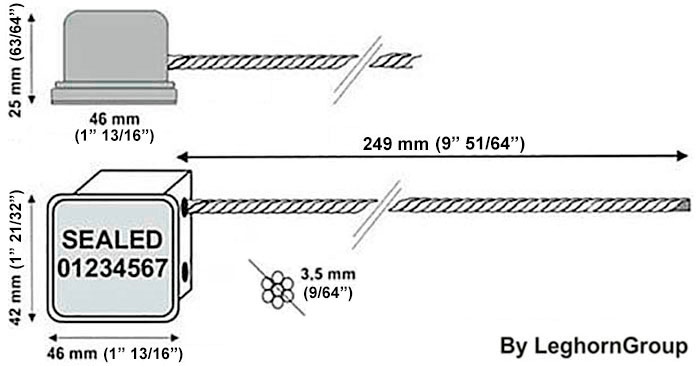 COLORS & CUSTOMIZATIONS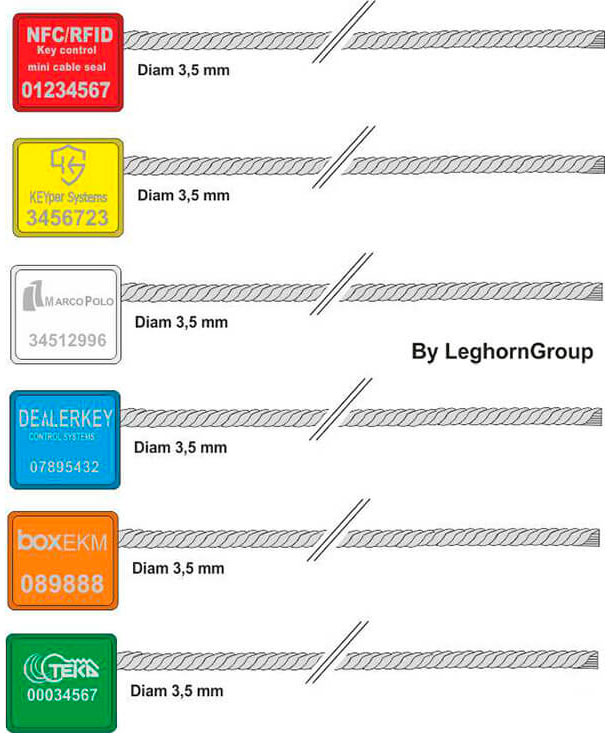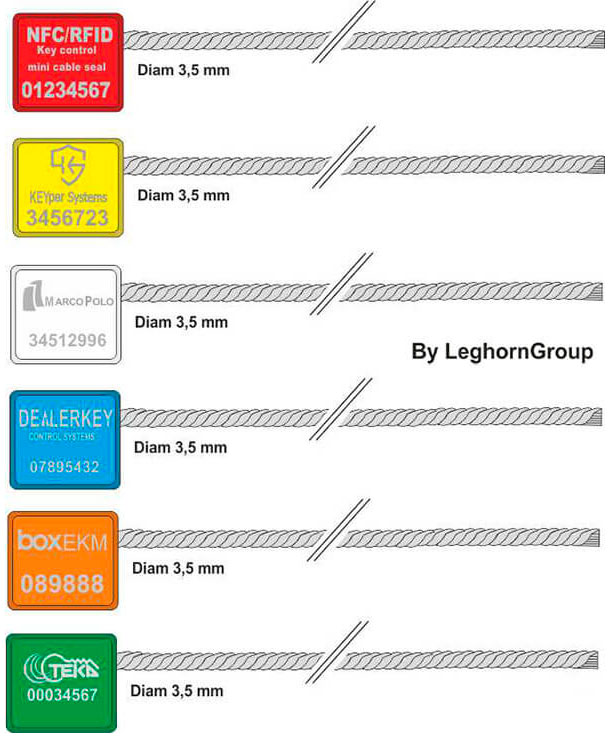 TECHNICAL SPECIFICATIONS
Operative frequency: 13.56 MHz – Protocol: ISO 14443A
RFID inlay type: HF Smart Label
RFID Chip: Ntag203, Ntag213
Reading Range HF/NFC: approx 3 cm (1″ 3/16″)
Operative frequency: 860-960 MHz – Protocol: ISO 18000-6
RFID inlay type: UHF Smart Label
RFID Chip: Impinj Monza 5/Alien H3
Reading Range UHF: approx 10 cm (3″ 15/16″)
Plastic box size: 42 mm*46 mm*25 mm (1″ 21/32″*1″ 13/16″*63/64″), Cable: Diameter 3.5 mm (9/64″), Length 249 mm (9″ 51/64″)
Material: carbonitrured steel + shock-proof polystyrene in accordance with Restriction of Hazardous Substances (RoHS), European Directive 2002/EC
Marking (option): Laser engraving for alphanumeric string, logo, barcode
Operative Temperature: -20℃ ~ 55℃
Warranty: 1 year
Certificates
Certificate MIRDC
General presentation
View presentation
You may also like…
Security UHF RFID Cable seal

Metal Cable Security Seal working with passive UHF RFID, radiofrequency automatic identification. Available with identification only or also with tamper evidence built-in capability

Security UHF RFID Cable seal roll-container

Security Metal Cable Seal working with passive UHF RFID, radiofrequency automatic identification. Available with identification only or also with tamper evidence built-in capability. It is extraordinary useful to prevent roll-containers' loss and mishandling