Copper Sealing Wire
1mm (3/64″) diameter red copper sealing wire technical data table
REQUEST FOR QUOTATION
Description
Wire seals together with sealing wires are particularly suitable in the fuel handling field.
All the sealing wires can be used, but in this field a copper sealing wire is more advisable to avoid any possibility of sparking while using it.
Also this copper wire has a spiral shape and a 1mm diameter.
It is extremely flexible and once the seal is pressed down on the sealing wire, it cannot be pulled out without breaking it.
We generally supply it in different spools weight and in pre-cut lengths which vary from 10 to 150 cm long.
TECHNICAL DRAWING


MATERIAL CLASSIFACTION
Annealed red copper compliant with ASTM B 49,92 – UNI EN 1977 – 2000
CHEMICAL BREAKDOWN
| | | | | | | | |
| --- | --- | --- | --- | --- | --- | --- | --- |
| Cu | Fe | Pb | As | Ag | Ni | Sn | S |
| 99,974 | 0,0035 | 0,0013 | 0,0011 | 0,011 | 0,0008 | 0,0009 | 0.004 |
COLOURS


COMPOSITION
Core wire: Ø 0.50 mm
Spiral wire: Ø 0.30 mm
MECHANICAL CARACHTERISTICS: TOTAL DIAMETER /  BREAKING LOAD
| | | |
| --- | --- | --- |
| Standard Diameter mm | TOLLERANCE Ø | BREAKING LOAD N/mm² |
| 1.00 | 10 % | 210/220 |
Strength per metre: 2,78g (1 Kg = 360  mt  appx – 2 .3 lb = 1,213 ft.)
STRUCTURAL CARACTHERISTICS
Coil distance: 2.00 mm  (50 coils per 100 mm)
SURFACE CARACHTERISTICS
Surface sate: glossy
ELONGATION
23-23%
Examples of use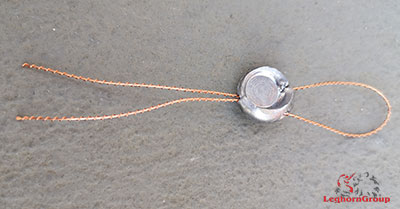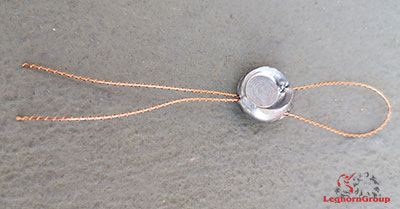 General presentation
View presentation