RFID seals for the management and traceability of industrial sludge bags
RFID e-seals suitable for identification, safety and tracing of industrial sludge bags
REQUEST FOR QUOTATION
Description
The transport of the sludge must be carried out with suitable means to avoid any dispersion during the transfer and to guarantee maximum safety from the hygienic-sanitary point of view.
In the various phases of collection and transport, storage, conditioning and use, the sludge to be used in agriculture must be accompanied by an accompanying card filled in by the producer or holder and delivered to whoever takes charge of the sludge (the original of the card and the copies must be kept for a period of at least 6 years.


During the transport phase it is also necessary to accompany the sludge with the Identification Form in accordance with the requirements of the different national laws (in Italy please see Article 15 of Legislative Decree 22/1997 and Ministerial Decree No. 145 of 01/04/1998), which must be kept together with the loading and unloading registers of the refusals, for a period of at least 5 years from the date of the last movement (the lack or incorrect compilation is sanctioned for instance in Italy by article 52 of Legislative Decree 22/97 of the Ronchi Decree);
LeghornGroup has been manufacturing seals in RFID technology for over 12 years.The TITAN SEAL RFID UHF model is a very strong and good seal, suitable for big bags.
It combines efficiency of automatic reading in distance, up to several meters away by using RFID fixed or handheld readers, with remarkable resistance to atmospheric agents and usage in harsh environments.
Available colors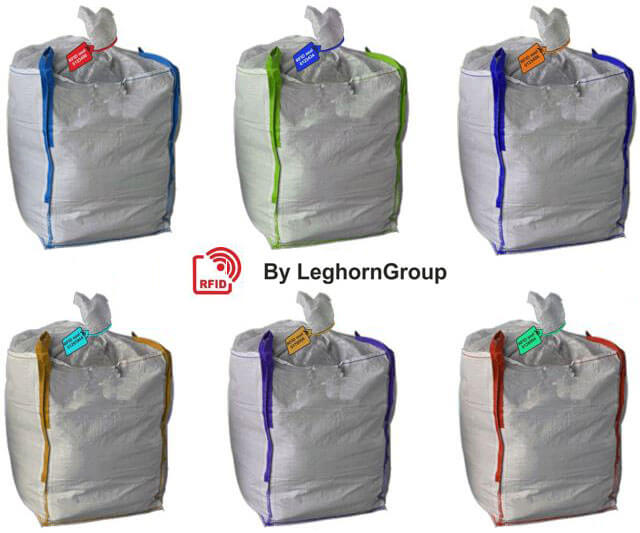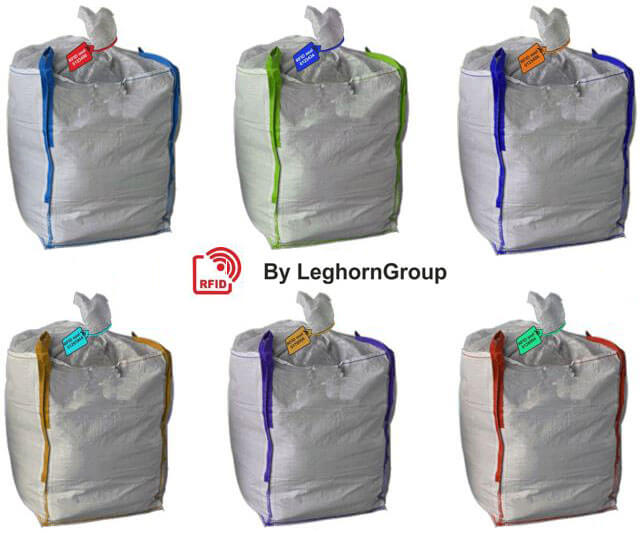 RFID UHF TITAN SEAL TECHNICAL DATA
RF protocol
EPC Class 1 Gen2 – ISO/IEC 18000-6C
Integrated Circuit(IC)
IMPINJ Monza 5 ; Read/Write
Memory
EEPROM
Operating  Frequency
860 – 960 MHz  – UHF Global
Protection
IP66
Operating temperature
-20°C to +80°C
Storage temperature
-20°C to +80°C
Tag dimension
60×60 mm (2″ 23/64″×2″ 23/64″)
Reading distance:
Typical reading  with  handheld reader: 50 – 80 cm (19" 11/16″ – 31″ 1/2″)
Typical automatic reading with gate large 4 m (13 ft)
Resistance harsh factory environment
The TITAN SEAL is an adjustable mechanical seal. Suitable for closing big bags. To this we have added an electronic component (RFID) to be able to transform a regular mechanical seal into a high-tech product that can collect a lot of logistic and traceability information and can be automatically read remotely.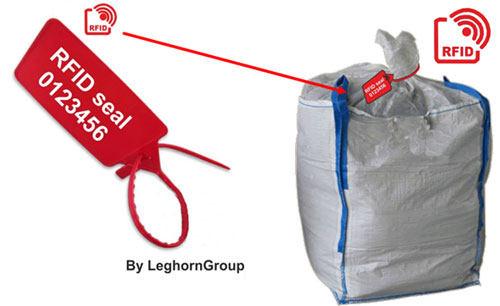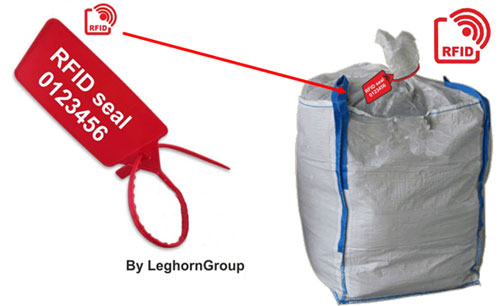 SIZE
Strip width: 5 mm (13/64″)
Length: 424 mm (16″ 11/16″)
Label size: 72×110 mm (2″ 53/64″×4″ 21/64″)


NUMBERING AND CUSTOMIZATION
– Thermal transfer or laser marking
– Sequential numbering up to 15 digits.
– Possibility of barcode
– Customization up to 20 characters on one line.
– The customer's logo can be produced on request.
– For special orders it is possible to make the logo in relief.
Storage and reading
By storing the big bags in a rational way, possibly all of them with the label on the same side, it is possible to check several big bags at the same time. Inventory becomes extremely fast and accurate. In case of lack of one Titan seal – RFID UHF seal, the reader will notify you immediately.


It is not recommended to stack big bags on top of each other.
Reading the UHF RFID TITAN SEAL could be hindered.
PACKAGE
Carton with 500 seals
Carton dimensions: 56×39×12 cm (22″ 3/64″×15″ 23/64″×4″ 23/32″)
Carton weight: 5 kg (11 lb)
You may also like…
TAGETE

UHF RFID board specifically designed to identify containers

UHF/HF/NFC RFID meter seal TWIST SEAL

Wire seal available in UHF, HF and NFC operative frequency bands. Outer body and rotor made in plastics (PC and POM) having high mechanical resistance