Meter Seal UHF/HF/NFC RFID CONNECTION LOCK
RFID seal for energy meters available in UHF, HF and NFC operative frequency bands
REQUEST FOR QUOTATION
Description
RFID CONNECTION LOCK is an e-seal specifically designed by LEGHORNGROUP for energy meters that combines the mechanical safety with the electronic one offered by RFID, radio frequency automatic identification technology.
RFID CONNECTION LOCK is a protection system for fittings of water and gas supply, simple to apply, which operates as a seal; it is composed of two semi-circular parts which fit together in a permanent way – one inside the other – and that cannot be separated without prior split them. The transparent plastic material with which the seal is realized allows to check the correct closure of the valve.
The presence of an integrated RFID tag – available in the frequency band HF (NFC) and UHF, not accessible from outside, allows associating a unique serial number with the closure system CONNECTION LOCK, number that can be read remotely and without line of sight with the operator.
With this identifier, the meter is automatically identified, by using RFID handheld readers or even smartphones and tablet from the market, assuming use of NFC technology.
RFID CONNECTION LOCK mounts an RFID tag whose electronic chip has its own unique coding system and cannot be cloned. This feature enables a safe and reliable automatic identification of the seal, or meter / user associated with it.
The outer casing of the seal, made of high-impact resistant polycarbonate can be customized with marking and numbering (alphanumeric code with inkjet printing technique, laser engraving, or in quantity also embossed lettering).
TECHNICAL DRAWING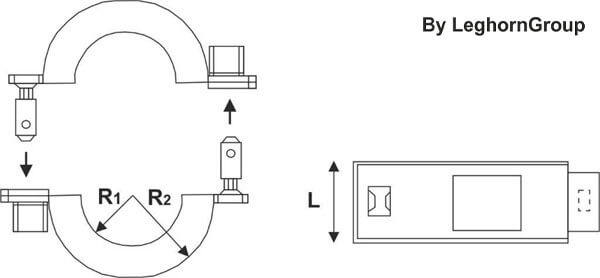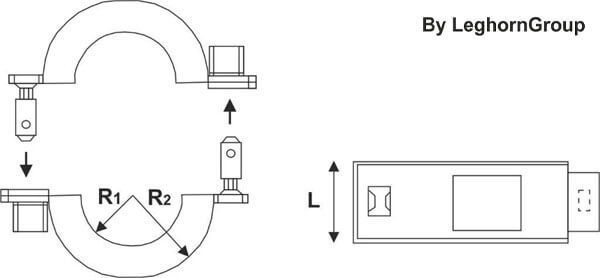 SIZE
ART 311: L: 26 mm R1: 16 mm R2: 22 mm; for DN20 (3/4") pipe-fitting
ART 312: L: 30 mm R1: 16 mm R2: 24,5 mm; per DN20 (3/4") bold pipe-fitting
ART 313: L: 28 mm R1: 19 mm R2: 27 mm; per DN25 (1") pipe-fitting
ART 314: L: 38 mm R1: 29 mm R2: 39 mm; per DN40 (1" 1/2") pipe-fitting
RFID HF / NFC OR RFID UHF SEAL FOR ENERGY METERS
The RFID technology provides automatic, contactless and without line of sight identification of the seal associated with the meter.
It can be read quickly and accurately through portable devices operated by the staff.
The RFID chip can also be used to store additional information.
One can easily write into the chip by using standard RFID read / write devices. The information can be password protected.
SPECIFICATIONS
Radiofrequency communication
Frequency:        HF/NFC 13.56 MHz; UHF 860 – 960 MHz – UHF EPC Global
RF Standard:    HF/NFC: ISO/IEC 15693; UHF: ISO/IEC 18000-6
Technology:      Passive
Tag:                  NXP ICODE series/NTAG213; NXP, Alien, Impinj.
Read/Write User memory:          yes
Password Protection:                yes
Read/Write cycles:                    10000
Data retention:                          20 years
Performance
Reading Distance: with handheld reader up to 3 cm with NFC, up to 5 cm with HF, up to 20 cm with UHF (dependig on type of reader)
Quality: 100% performance tested
Mechanical specifications



COLOURS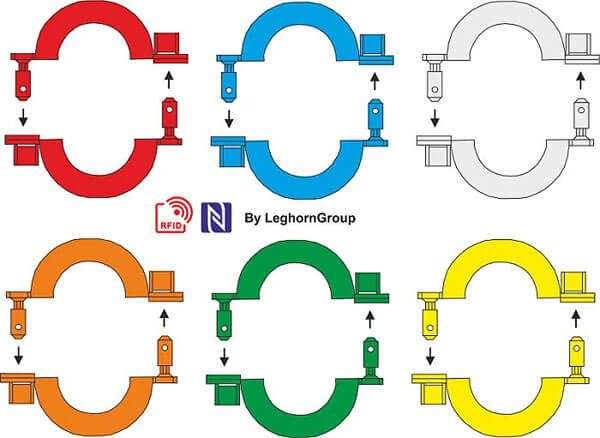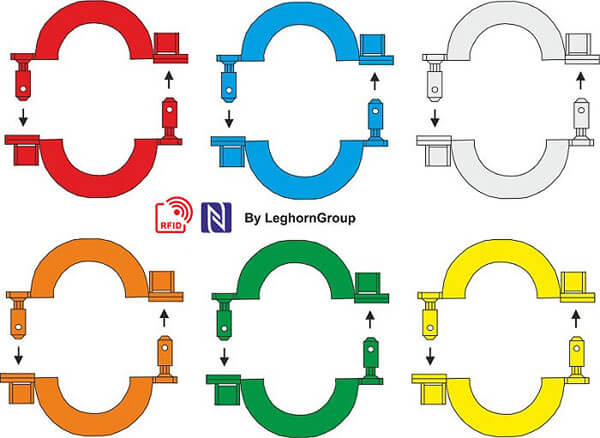 Examples of use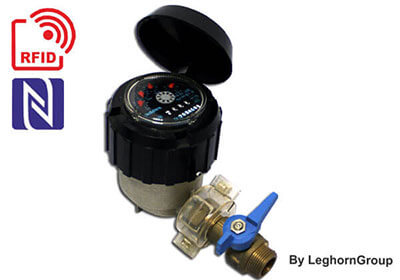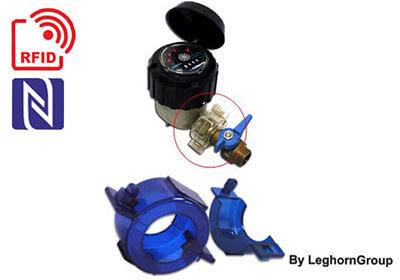 Video