UHF/HF/NFC RFID Pull-tight seal HECTOR SEAL
Adjustable plastic seal that combines the mechanical characteristic of high resistance to tensile strength with automatic identification offered by RFID technology. Available in UHF, HF and NFC operative frequency bands
REQUEST FOR QUOTATION
Description
HECTOR SEAL RFID is an adjustable plastic seal that combines the mechanical characteristic of high tensile strength, typical of this model, with the security and greater versatility of use offered by the automatic radio frequency identification technology, RFID.
The seal has a special closing system with metal insert which strengthens its handling resistance. It can also be made with and without pre-cut.
HECTOR SEAL 7,5×420 mm meets a wide range of applications: it can be used to seal tank trucks, to close holes far from each other, or for heavy postal bags.
The presence of a unique RFID chip guarantees its complete non-clonability, reinforcing product security in the authentication of goods along the transport and logistics chain.
The availability of the product in two different operating frequency bands also ensures differentiated performances and therefore a wider possibility of use in the field.
The transparent housing covering the plastic head not only seals and makes the RF part inaccessible, but also allows a quick visual inspection and the reading at glance of any marking data printed in clear on the head itself.
TECHNICAL DRAWING


COLOURS & CUSTOMIZATIONS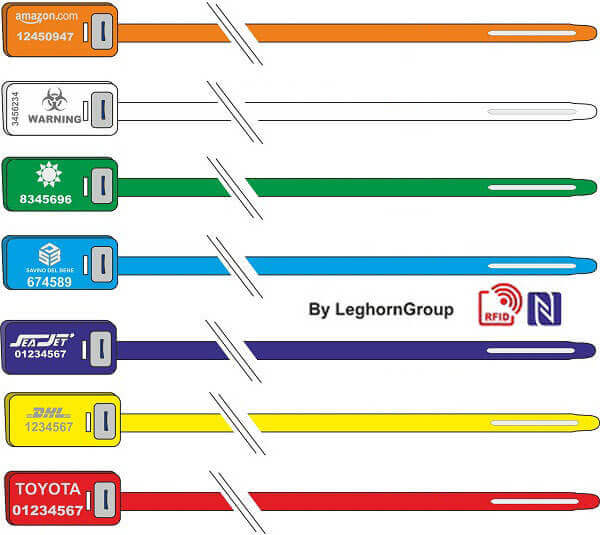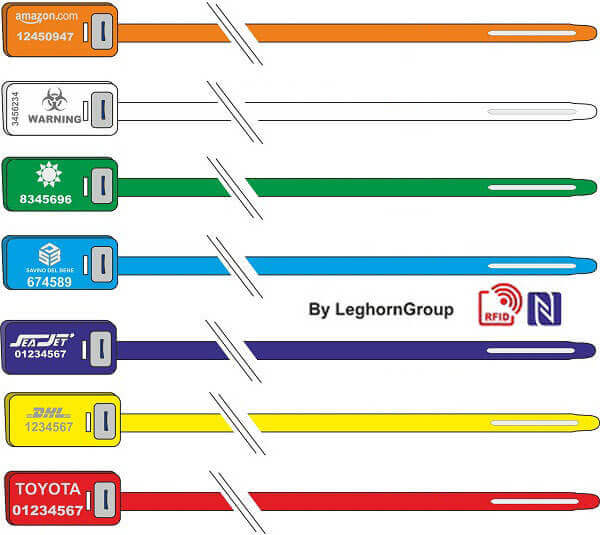 TECHNICAL SPECIFICATIONS
Operative frequency: : 13.56 MHz – Protocol: ISO 14443A
RFID inlay type: HF Smart Label
RFID Chip: Ntag203, Ntag213
Reading Range HF/NFC: approx 3 cm
Operative frequency: : 860-960 MHz – Protocol: ISO 18000-6
RFID inlay type: UHF Smart Label
RFID Chip: Impinj Monza 5/Alien H3
Reading Range UHF: approx 10 cm
Plastic tag size: 75 mm*28 mm, Seal tail: Width 7.5 mm, Length 420 mm
Material: Polypropylene
Printing (option): Laser Mark
Barcode (option): Barcode printing
UID printing (option): Laser Mark
Operative Temperature: -20℃ ~ 55℃
Warranty: 1 year
You may also like…
RFID TITAN SEAL

Plastic pull-tight seal with large tag (72×110 mm) and RFID, radiofrequency automatic identification capability. Available in UHF, HF and NFC operative frequency bands

UHF RFID Secure cable seal keyholder

Sturdy cable-style locking keyholder featuring high security thanks to the use of RFID technology. It has built-in tamper evidence functionality to show possible manipulation of keys. Ideal complement to Key Management Systems